Today (Monday, April 29) I had the pleasure of being the accompanist for singer Kelly Smith at the Manx Music Festival – known as The Guild.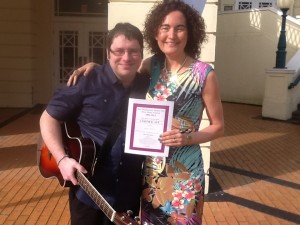 Kelly sang the Eva Cassidy version of Fields of Gold in the Popular Standard Song 1980 to Present class and I fingerpicked the song on an acoustic guitar.
I am thrilled to say Kelly came a well deserved joint second, with a superb mark of 88.
I am sure this is just the first of our musical adventures together.
Kelly came third in the Folk Song class today as well so it has been a very successful day for her.
The Manx Music Festival is in its 121st year – it was founded in 1892!
Happy guitar playing,
John