Here is a picture of me with blues/folk acoustic guitar legend Wizz Jones.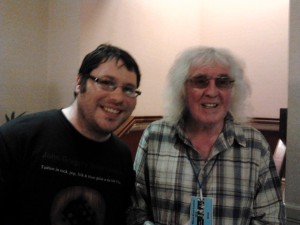 Wizz played at the Big Wheel Blues Festival in Douglas, Isle of Man, on Saturday night (May 11).
It was a fantastic performance and I was pleased I had the opportunity to meet him after his set.
The weekend was full of great music from top international blues acts and quality Isle of Man musicians.
Blue John and Papa Cass (the blues duo I perform in), played on Sunday (May 12). It was the sixth consecutive year we have played at the festival.
Music fans across the Isle of Man will already be looking forward to the 2014 event.
Happy guitar playing,
John