John Gregory is a dedicated full time guitar tutor who likes nothing more than to share his enthusiasm and love of music with his guitar students.
Friendly and approachable, John has been playing guitar for 20 years and has taught thousands of private and group guitar lessons in the Isle of Man. He is a regular live performer and has headlined sold-out concerts. He has played in New York and London and opened shows for several major names. In 2017 John is going on a tour of the British Isles as opening act for world-renowned American guitarist Ari Eisinger.
Everyone who picks up a guitar wants to learn how to play something on it as quickly as possible. John has his students playing something by the end of their first lesson even if they have absolutely no previous knowledge of music or if they know nothing at all about playing the guitar.
John teaches rock, pop, blues and folk styles for both the acoustic and electric guitar. The instrument has changed John's life and he wants to pass some of the absolute joy it has brought him onto others. He has worked with people of all ages – from toddlers to pensioners – including children with autism, nursery school children, people with experience of mental health problems and prisoners. See the testimonial page for what others are saying about him.
*John is a full member of the Registry of Guitar Tutors – the world's largest organisation of guitar tutors.
The registry's honorary patrons include Sir Paul McCartney, David Gilmour, Hank Marvin and Gordon Giltrap.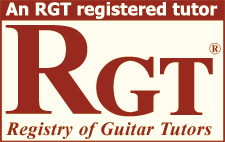 John also has a profile on the www.musicteachers.co.uk website.To see John's profile click here
(John's business is registered with the Isle of Man's Companies Registry under the name John Gregory Guitar Lessons)